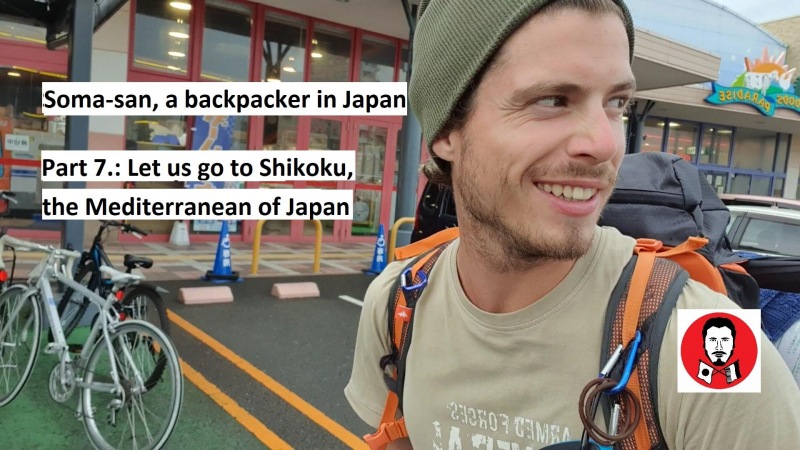 After Osaka, Kyoto and Nara Soma headed South. More new experiences, meeting new friends, beautiful sights to see, and understanding Japan at an even deeper level. In this part of the journal, we will learn which experiences were the most determinant in these days.

Kakehashi: You wanted to visit Koya mountain, no matter what. What should we know about this scenic spot? Why did you want to go there and how you got there?
Soma: Yusaku-san, whom you met in the previous part, the next morning took me up to the mountain, which was important for me for the following reasons: This sight was another stop in my journey which is not too popular among the average Japanese, not to mention the foreigners. Koya is a sacred location (to be honest, the mountain never ever had been called like that). According to the mysticism, the souls cross here before entering the afterlife. There are several pilgrim paths leading this way. The most important from all is the one which is almost 1,200 km long, and visits 88 temples of the Shikoku Island. And this is the last stop of this route. Those beautiful temples along the route. And the mausoleum of Koukai, who was a monk, and a Grand Master, one of the greatest religious influencers of Japan, can be found here, in the largest cemetery of Japan in Okunoin. He was the founder of the Shingon Buddhism. Huge, ancient trees, more than 200,000 stone statues covered with moss, and tombstones everywhere. It is a completely different world, but it totally did worth to come here. Japanese people respected me for these types of destinations on my plan because these were unique even for them, the birthplace of their culture.
After this I started hitchhiking to my next destination, Himeji. A mice couple offered me a ride, by their AMG Mercedes…. They were from Hiroshima, and suggested that if I make it there, I should visit them because they have a boat, and they would like me to join them for a boat trip. To show their wealth, I was told that they have some 20 cherry trees. I used to have one too in Hungary, but we had to tear it down as it had some disease – I told them. When they heard me saying this, they made a face and looked at me like I confessed killing a human. As other previous helpers, they also stopped at the first store, and bought me drinks and snacks to fill up my inventories. They dropped me of at the train station in Himeji.

Okunoin graveyard, the gate of Koyasan, 25 meter high Daimon
Kakehashi: In Himeji, you had plenty of adventures. Would you share them with us?
Soma: There were 3 of them worth to mention. It was Friday night when I arrived. I was strolling the city when a young man brave from having enough to drink, approached a fellow on a motorbike and started grabbing its passenger. As they were not too happy about it, they called him to account for his actions. Other bikers joined them in support, and they started yelling and shouting too at the drunk person. And kicked him a few times. The police were there in less than a minute. And at the end they let him with a handshake and without investigation. This was the only affair which I witnessed during my 2 months spent in Japan, although I was strolling all day and night, in the countryside and in Tokyo with the population of 35 million habitants. .. At home (in Hungary) during my very first day after returning from Japan, I had a similar experience. In Japan, it was very interesting to see and observe that they handled the situation totally differently from anywhere else around the world where I have travelled. A minor interesting thing to mention, that that night out of curiosity and being a rebel, I put up my tent next to the police prefecture, which was the size of the Budapest Police "palace" Headquarters. This was the first time when I was somewhat braver than before.
The next day, I toured the city, which – in comparison to Osaka – was a feast to my eyes, and according to many the largest and most beautiful city. The White Heron Castle is one of the 12 castles, which remained in its original form and was never destroyed. During World War II they covered it with ash, so it will not be targeted during the bombing. It is one of the first World Heritage sites in Japan, since 1993.
It was early evening, and I was resting on a bench, when two retired men started a conversation with me. Who am I? Where am I from? How much do I know about Japan? Somehow during the conversation, it came up that Japanese people look and act younger than their age. So, they asked if I could estimate their age by their look. I wanted to be polite so willfully underestimated their age and told them that they looked like 50ish. They both started laughing. They bowed, handed over the paper bag that they were holding in their hands, and said goodbye. I thought it was garbage in the bag and feeling sorry for this stranger they handed it over so I can put it into the garbage bin. When I opened the bag, I found a splendid wooden box which had 4000 Yen worth of fresh sushi in it. I should not say, how startled I was. They showed their gratitude this way, just for be me being polite with them. I came to an unbelievable country. This was the only time when I ate sushi in Japan. It is like eating pizza in Italy. This is why I did not want to buy sushi. Even if it was a hundred times more delicious than the one I can buy in Hungary or anywhere around the world.
After all of these, I decided to do laundry the first time. Of course, I could have paid 200 Yen – worth of a lotto jackpot – at a laundry shop, but I figured I can do it for free. It would have not been an issue if I were not wearing my last set of clean clothes at this time. Therefore, I had to find a way to use magic and clean that beyond all description amount of clothes, including 5 pairs of socks, t-shirts, and underwear. In a local shopping center, I spent 2 hours on this exciting task. In one of the faucets, I rinsed them in clear water, in the next one I soaked them in a soapy detergent water. Most likely I was very popular among those who came to use the toilette as they could not wash their hands. And I, with a poker face, as it was the most natural thing to do, and like our great-great-grandmothers did it by the riverbank, was washing my dirty clothes in a shopping center. I swore to myself, that never ever again I will wait this long. I need to do laundry after every 2 days because it took just too much time.
In the evening, I slept in a parking lot right across from a school. I hung the freshly washed clothes on the top of my tent and the umbrellas. The "only" problem I had that during the night it rained and the parents escorting their children to school the next morning were not too happy seeing me spending the night there.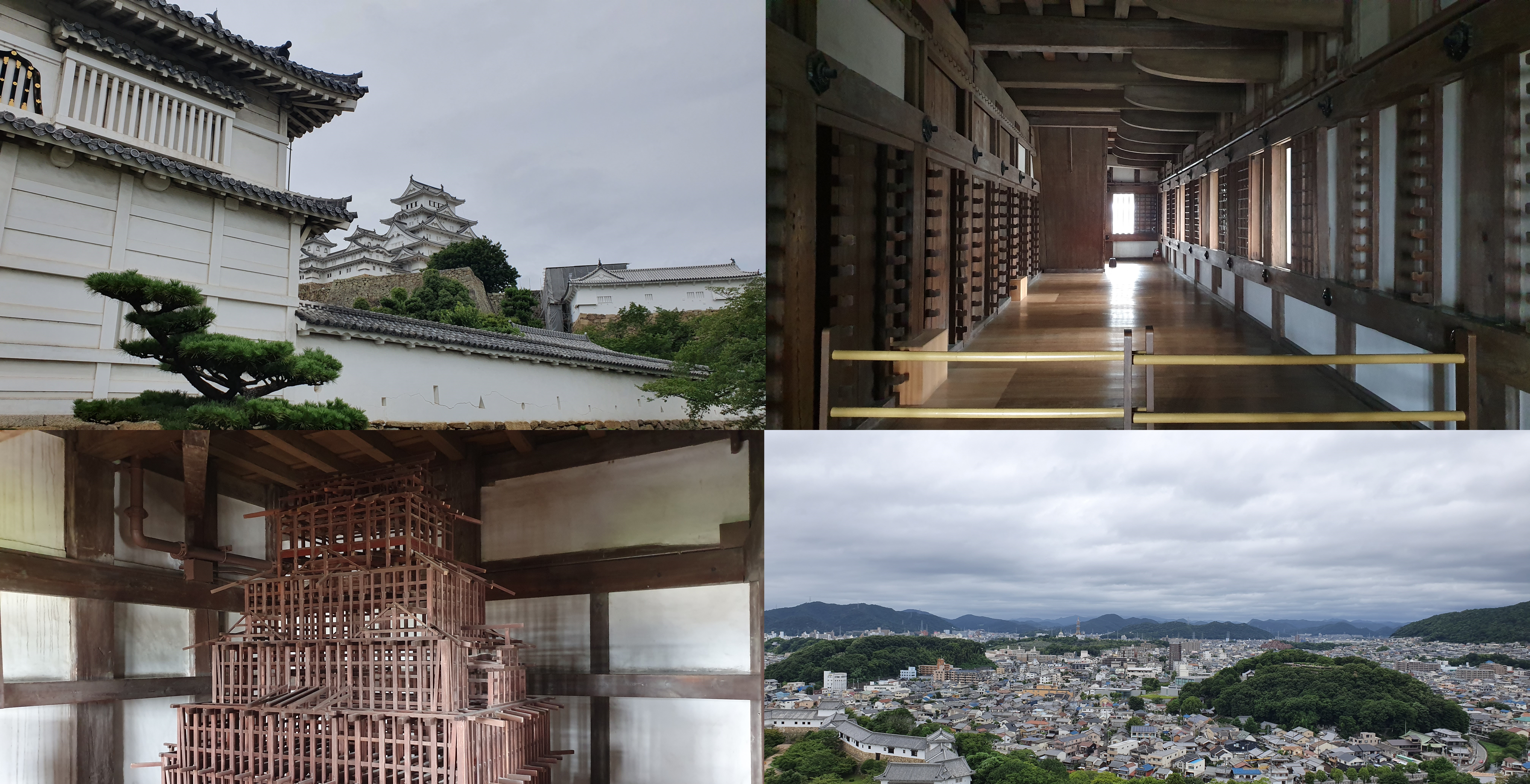 Himeji castle form the inside and from the outside, mock-up and the view of the town
Kakehashi: You continued with your trip and were approaching ever further South. What places did you visit? What impressions did Shikoku the second main island have on you, after visiting Honshu?
Soma: Yes, the next day I targeted Shikoku, the smallest main island of Japan. I was offered ride by a Shinto priest and his son. While travelling, they invited me to their private temple in Akashi, and present me with a short ceremony. At the end I was offered the most bitter mugicha (a cold tea made of barley during the summer) which I learned to like. Later, I was offered a ride by Kaze-san, who – halfway through our trip - invited me for a ramen lunch and dropped me off in Naruto (yes it is like the anime) which is at the intersection of the Japanese inland sea and Pacific Ocean. I walked to the shore and slept there.
I felt like Tom Hanks in the movie Cast Away, completely alone on the shore. Finally, I was able to hang my clothes which were kept in a plastic bag. I found a larger stump which I used as my seat. I dug another one into the sand and tied my umbrella to it, kind of like a DIY sunshade. Pretty homeless (looking) but at least it was mine…

Cast away, Naruto Ohashi bridge and vortices
During the morning hours I did not do anything except swimming and sunbathing. In the afternoon I walked over to the bridge which connects Shikoku, Awaji the small island and Honshu. This is a place worth to visit because here you can see the spectacle of the joining point of two major waters, the so-called Whirls of Naruto. It was very spectacular, next time I am here; I will pay to get on a boat trip for tourists which will take me very close to the whirls and I could see the several meter deep swelling blueness. After I was done looking, I went back to the highway and started searching for my next ride. During that morning I got such a bad sunburn that I was unable to lift my backpack up, so I gave up trying to. A funny thing happened. While I was trying to catch a ride, an elderly lady from the house across, approached me and with a smiley face started talking to me in Japanese. She was not bothered by the fact that I had no clue what she was saying. I was nodding and endorsing her, and I started explaining her by speaking slowly in Hungarian where I wanted to travel next by showing her the paper with the name of the city (I think even if I were speaking to her in fluent Japanese, she would have not heard me). Then she started pointing first to the left and then to the right. I am sure I could not win in a game of Activity….
The following day, after 2 hours of trying to catch a ride, - by using the theory of "if the mountain does not come to Mohammed then Mohammed goes to the mounting" – I decided to change my position and stand on the other side of the road and find a ride backwards. And maybe I get to a larger pit stop where I can find a ride easier to the right direction. After only a few seconds, thanks to my flexible and free thinking, two ladies, Dolly and Tai-chan offered me a ride.
They told me that they are on their vacation, and they do not have a set plan so they will just go with the flow and decide what they want to do or where they want to go. They asked what I was doing in Awaji and where I am headed to. So, I told them that I had nothing to do there, and simply I could not get a ride in my original direction, so I changed my plan. They stopped the car and asked what my plans were. I told them that I want to visit the inner land of Shikoku Island, the Oboke-Koboke Pass, the Iya Valley, and the Kazurabash Bridge. By hearing this, they decided on the spot that they liked my plan very much, and if I do not mind, they will join me as even they are Japanese, they have never been at these sights. Of course, I did not mind! Not to mention that at the first stop they invited me for a coffee, and they paid the fees for the bridge too.
The Pass is a breath-taking sight (which is call Oboke-Koboke, a Japanese pun), and if I ever going to make it back here, I will visit by kayaking on the slow river. The Kazurabashi is a wooden hanging bridge, and by walking thru it, above the rapid current of the river, and between the peaks of the mountain, you get goose bumps. Shikoku is a sight which should not be missed. Either for its famous cities, festivals, wonderful natural treasures, or for simply having a nice, relaxing vacation in the Seto Naikai area. Next time I will spend more time here, I should tour around.
Basically, we travelled together from 1:30 pm until 10 pm. We became like a family; we keep in touch ever since. They did not only give me a ride, but they travelled this way just because of me. We travelled some 200 kms back and forth, and we visited the beauties of the region together. They were heading back towards Naruto, and they dropped me off at the bridge column of the bridge which was the first to connect Shikoku and the great main island Honshu in 1988 (until then it was only possible by a ferry).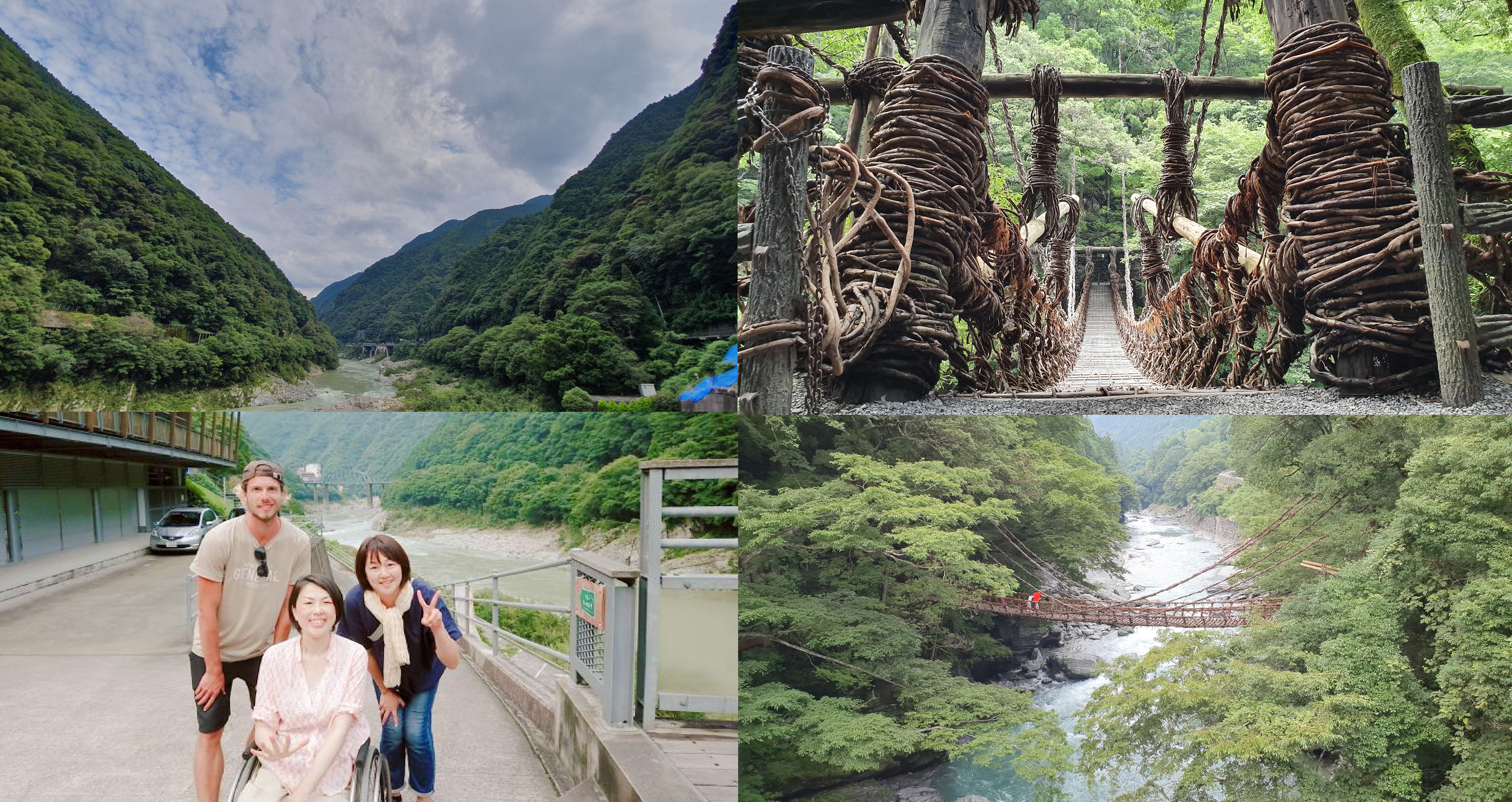 Oboke-koboke, Kazurabashi bridge, Dolly and Tai-chan
Kakehashi: What was your next destination?
Soma: According to my plans, it was Izumo which was the second largest Shinto center after Ise. The following day I was offered a ride by a man. And while crossing the bridge I was talking about in the previous question, I was able to enjoy the view of the Japanese inland sea and its thousand little island which are like gemstones. Passing thru Kurashiki, I remembered that my companion by bike whom I met in Kamakura was from here. And from the highway, I had the opportunity to see the 4th largest torii of Japan, which is part of the Saijo Inari sanctuary and is 27 meter tall. And on the flat land it draws your searching sight like a magnet. The man dropped me off at a rest area of the highway, close to the intersection towards Izumo. Nobody stopped to give me a ride in the evening, so I got stuck here. At the same time, it was on the news that the Tsuyu has officially ended (the rainy season) which made me very happy. Although I did not mention it yet, but it was raining almost every day until now.
The next day, I woke up in a great mood, and I realized that because of Osaka, I gained 4 days, so I would be a fool to go to Izumo. I quickly changed my plan and decided to go to Fukuchiyama. And from there to Tottori. These cities were part of my extended plan before Miriam cut down on it. I felt a bit of remorse only because I made the man from the previous night to unnecessarily travel this way, as I could have travelled to Kobe with him towards his destination.
An elderly couple offered me a ride from this rest area, who invited me for a lunch (this was the first time that I ate Zaru-soba which became my favorite main meal), and then Care-San took me to my destination. I was strolling the city, and in the evening, I put up my tent by the riverbank, as usual. The next day I had part in an incredible journey of which you will be able to read more in the next part!