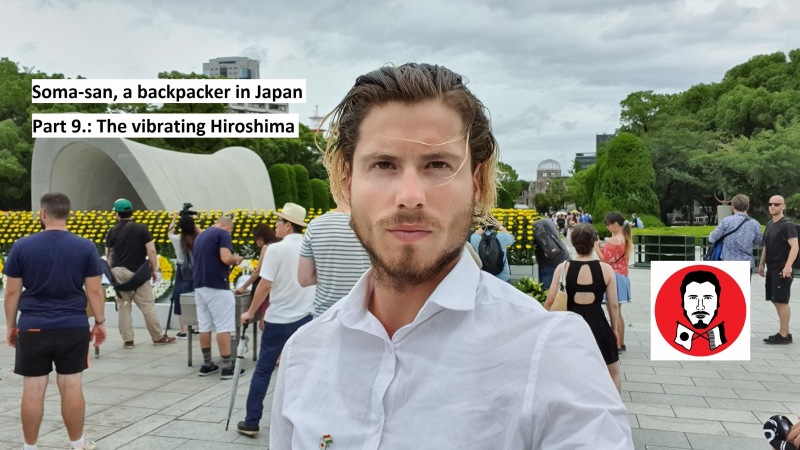 After the venturesome discovering of Tottori and Izumo, Soma's next destination was Hiroshima. Extreme heat, new friendships and the reminiscence of the historical past awaited the great explorer. I wonder how Soma remembers these events. 
Kakehashi: You were on your way to Hiroshima. What happened during this trip?
Soma: In the morning, I walked to the entrance of the highway from the little store, where I spent my previous night. While walking to the highway, I saw a street thermometer, which displayed 38 Celsius, but for sure I felt it like 48 walking on the asphalt. As I mentioned before, I learnt later in time, that this past 2 weeks were the hottest during that summer, and they were warning the people everywhere – shops, TV and radio programs – to watch out for the elderly and themselves, drink lots of water etc.
After a few minutes of hitchhiking, an elder man slowed down by me, but he took off without stopping. And he changed his mind and came back for me. I was on my way to Hiroshima, and he was on his way to Okayama, kind of in the same direction. He offered to take me halfway. He was very kind, I keep in touch with him on Facebook, too. As it happened before, we stopped at the first truck stop to buy me drink. And we had lively conversation while travelling together. He is learning English; thus, he was happy to offer me the ride so he could practice it with me. He is also playing the guitar Kunihiko Itagaki-style, just like me, which was a topic we shared. He is very modest and a good person. I am very happy that I met him.
At Miyoshi we went on our own ways. Not much after I got a ride with another man. At the first gas station he bought me 2 bottles of drink, to make sure that I will not dry out. I learnt that he was from Hiroshima, and he offered to take me all the way. My plan was, that on the first day I would visit Miyajima with the Itsukushima Sanctuary, but he suggested that it was getting late, and I should go back at another time. On the way to Hiroshima, he made a few phone calls, among many he called his boss and told him that he will be late because he just offered a ride to a gaijin and he will show him around. Basically, he would be late for 1-2 hours because of me, so he could show me around in the city. Unbelievable ……
The next few sentences, my Dear Readers, I want you to take it literally: As soon as we arrived, and we parked the car, he was pulling me behind him by my arm (physically) to the various attractions and explained to me what must be known about them. After that, we walked back to the car, drove to the next parking area (there is a parking fee to be paid at all parking areas) and repeated the same process of being led by holding my arm. I had my private tour guide who showed me the Atomic Bomb Dome (A-bomb Dome), the Peace Memorial Park, the Hiroshima Children's Museum, the statue of which shadow burnt into the ground when the A-bomb exploded, or a Christian temple which meant a lot to him.
Concluding this tour, he invited me for lunch, to try a Hiroshima Okonomiyaki, which was prepared in from of us and consists of oyster, udon pasta, some meat, and eggs, and all is covered with a pancake (crepe) type of material. So much in front of us, that just like in the movies, the chef was preparing our meal on the other side of the table. It was very delicious! With our stomachs full, he offered to buy me some souvenirs. I was so full of these experiences, but he insisted to buy me something, so he bought some 10 packs of various momiji manju (a type of dessert, fried rice pasta filled with chocolate or anything else). At the end, we said our farewells. I want to express my gratitude for everything he had done for me, and not only for giving me a ride and the things he bought me and spent almost 10,000 Yen on me.

38 degree ,,atsuiˇˇ, Itagaki-san, my local guide, and my Hiroshima style Okonomiyaki, which made in front of me (teppanyaki)

Kakehashi: After the long, countryside adventures, how did you like being in a very large city again?
Soma: I must admit, I really enjoyed it. I had so many impressions during my first evening that I was very excited. I could not sleep as I could not digest all these things. I was sitting close to a store at 4 am while on my phone when a young man – kind of my age – and a girl came by bicycle. The girl entered the store, the young man lit a cigarette next to me and he started a conversation with me. Who am I, where am I from, I have a large bag, where am I going to? It is unbelievable, but we had a very meaningful conversation. He mentioned that he is from England, he was a bad person while in England, he did bad things, and his favorite hobby was not working. As a last resort he left his home and family, he came to Japan to improve. He did not want to cause any more problem for his family. He was very ashamed of himself. But the local atmosphere and society changed him so much, that he met a girl here, whom he married and became his wife, they were both working, they were happy, and he had not had any problem with the authorities since.
I congratulated him and gave him credit for his achievements and told him that his parents must be very proud of him now and he should be very proud of himself. And whatever he did before, that is the past. My "Sermon on the Mount" which I carried out in my not close to perfect English touched him at his heart and he got very emotional. When his wife came out from the store, he told me that it is time for them to leave and he was happy that he met me.
We shook hands at the end to say goodbye, and I felt something in my hand that he pushed in my palm. I told him that I cannot accept it (whatever it would be) but he insisted. After they left, I could not recompose myself. He gave me 5,000 Yen just because I talked to him the way I did, as one human should be talking to another. I was in such a shock that I could not remember his name, and I could not sleep that night.
This is how Hiroshima welcomed me, by introducing me to two very kind Japanese. The amok of the second man was itself such an act which cannot be described by words, and then this English dude … 
Kakehashi: Tell us, how was it to get to know Hiroshima? What kind of impressions did you get about the city, the historical attractions? What kind of atmosphere did the city have?
Soma: Japanese people say, the further South you go, the friendlier people will get. I do not say that this is not true, I rather say that they are more openminded and they smile more. Hiroshima has some kind of special magic. Like that tragedy which happened there almost 60 years ago would be constantly vibrating in the air and yet the people are smiling to prove that they are happy. Just to because!
Even the first day, when I was here with my tour guide, I only saw smiling and happy faces.
And yet, when I saw the A-bomb Dome, I had a heavy heart, and some very sad feeling was overcoming me. I cannot and I will not do justice if that bomb was needed or not. Maybe the war would have went on for years without that bomb, but if the bomb were not dropped then hundred thousand of innocent lives could have been saved. Only God knows….
The entire city is a reminder, but not because of its attractions but because of its spiritual wounds.
There are plenty of fountains in the city, and there are 6 rivers, some call it the city of the rivers. But water symbolizes the fact that after the bomb were dropped, the water evaporated and there was a shortage of drinking water.  So, the numerous fountains represent life, and persistency.
I spent 3-4 days here, I spent hours just wondering around the city, but it touched me deeply and became one of my favorite cities.
Kakehashi: You planned your arrival to Hiroshima that you could participate in the national commemoration day of the anniversary of the A-bomb strike. How did it feel like to remember the martyrs of the war, together with the Japanese people?
Soma: Yes, you are right. This was one of the most important and memorable destination of my trip. It started raining in the morning, so it gave a special touch to the commemoration. Lots of people, lots of TV crews, lots of guests and a huge tent in front of the Memorial Park decorated with flowers.  I thought – thinking about Japanese people – that this event will be very long, boring, and monotonous, but I was wrong. When I was a child, I got bored during the commemorations held at my schools or the opening and closing ceremony of the school year, but I did not get bored at all this time. In fact, I considered the approximately 45 minutes long program short. Of course, there was an English brochure available about the parts of the commemoration, explaining what each of the event meant. Maybe it is not the ceremony itself a big thing, rather the entire day. Because later that day there were many more programs at many locations, and this was kind of like the opening ceremony if I may say so. I can only recommend it to everyone. But I cordially ask you to respect Japanese people by wearing the appropriate attire, not like if you were just an average tourist showing up by accident. It is not polite. If I was able to carry a shirt for two months just to be able to dress up appropriately, other should be able to do so too …..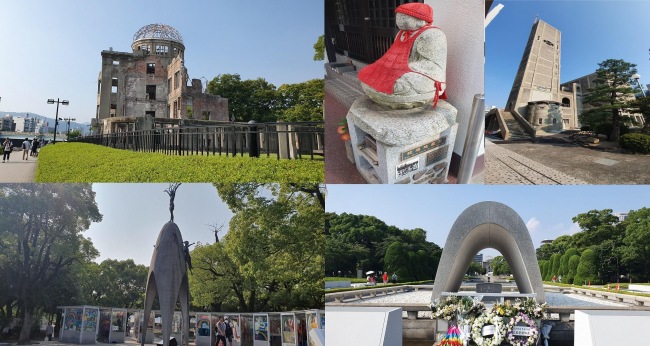 The main spots of Hiroshima, the atomic bomb dome, childrens's peace monument, a Heisei-koen with the flame of piece, a great Christian cathedral and the shadow of the atomic bomb

Kakehashi: After this, you travelled to a wonderful island, where magical attractions awaited you. Can you tell us a bit more about it?
Soma: I left Miyajima to be visited after Hiroshima. I went there by the Hiroden (tram), and I took the ferry over to the island. I had to realize, that just like the Tojii in Kyoto, one of the main attractions, the floating torii was under renovation. But somehow I expected it. In general, the sea was very beautiful from the ferry, with the numerous islands surrounding it,  and the Itsukushima Sanctuary was spectacular too. Like Nara, this island is full of deer too.
Just one more word about the floating gate: at the time of the falling tide, you can walk up all the way to the gate. And you can walk around it in mud. And at the time of the tide, it shows a completely different face to you. We can say that it is a relic which represents Japan.
After a few hours of wondering around I took the ferry back to the mainland, and I walked to the next entrance of the highway so I can start my journey to the most Southern destination of my trip, to the center of Kyushu, the Takachiho waterfall.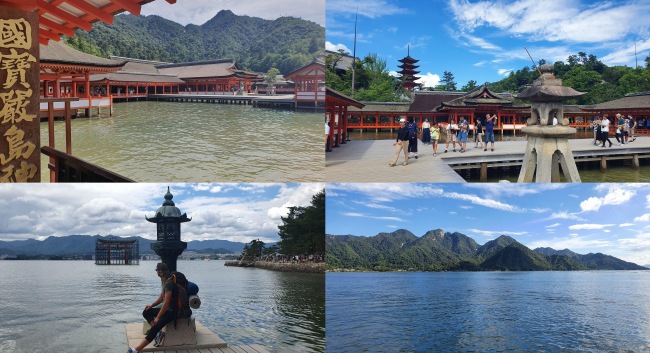 The island of Miyajima, the Itsukushima shrine, the floating torii, and the magnificent view of the Seto inland Sea

Kakehashi: The next stop of your trip was Takachiho. What happened here?
Soma: Unfortunately, it was very difficult to get down South. Nobody wanted to give me a ride at night. And the next day, one of my helpers misread the map to find me a good place to stop and drop me off at, so I spent the night at Koga. I was offered a ride from there by a Dutch man with is Japanese family, who were on their way to Nagasaki for the August 9 commemoration. After them, Madoka-san and his wife offered me a ride, and since then we keep in touch on Instagram. And after them, a grandchild-grandchild-mother-grandmother group of four offered me a ride and took a detour just because of me towards Takachiho where they literarily took me all the way down to the valley.
I might have mentioned it before, maybe during one of the recent gathering of the Japanese-Hungarian Friend Society, that there were many times when I knew the Japanese history, geography, culture better than the Japanese people themselves, because I learnt about them and learnt them. They were surprised this time too why they have never heard of this place before, especially that it was wonderful.
I only came to Takachiho because of its natural beauty. I saw photos about it, but it was even more beautiful. Unfortunately, the water was shallow thus I could not take a rowing boat but walking in the canyon was as or even more satisfying for me. I really did worth travelling here, I would have not missed it for any fortune. I took a walk by the waterfall where the water comes from, and then took the path up to the top where the roads were.

Takachiho waterfall, and his valley with the bridges, which looks like the mines of Moria


I believe I found the cheapest items of my entire trip, here in a small store while I was looking for something to eat for dinner and breakfast. I slept by the main road, so I can start my trip as soon as possible to my next destination, which was Aso-san, a volcano with the largest circumference of the world!